May is National Masturbation Month and the hottest flirts on Niteflirt wanna give you a hand! Find phonesex, sexting, videos, clips, audio mp3s and even more goodies on Niteflirt.  They are yours to be had…and if you're new to Niteflirt you'll get three free minutes for your very first super hot Masturbation Month phone sex call.
What is National Masturbation Month?
You have questions, we have answers.  Here are the FAQs.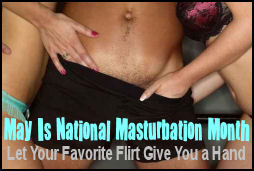 Q. Is May REALLY National Masturbation Month?
A. Yes, May really IS National Masturbation Month.
Q. Who starts these things? Is it like a legal holiday or something?
A. National Masturbation Month was first declared in 1995 by the owners of Good Vibrations in San Francisco. It is not in any way associated with any government entity nor is it "officially" a holiday. You'll still receive mail & your banks will be open. So will our Niteflirt phone lines.
Q. Ok, so what else can you tell me about National Masturbation Month?
A. There are live Masturbate-A-Thons in San Fransisco & other major cities in the USA.
And there's more to the story.  Here is the long version **  of how the month of May came to be National Masturbation Month.  Scroll down after clickin' the chokin' chicken.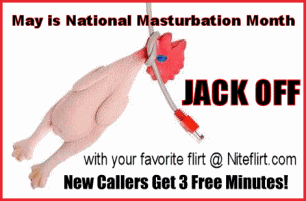 Great Moment in Masturbation History: Speaking the Truth in 1994
Surgeon General Dr. Jocelyn Elder Fired for Comments on Masturbation
In December of 1994, then Surgeon General Jocelyn Elder answered a question at a World AIDS Day event in New York City.
The question was about the possibility of masturbation being included in comprehensive sex education in schools. As quoted in White House transcripts, Dr. Elder replied, "I think that is something that is a part of human sexuality and it's a part of something that perhaps should be taught."
While she was in no way suggesting the explicit teaching of masturbation techniques, she was acknowledging, rightly so, that masturbation is part of sexuality, and therefore should be a part of a comprehensive sexual health curriculum. She continued on that day saying  "But we've not even taught our children the very basics. And I feel that we have tried ignorance for a very long time, and it's time we try education."
For her courage and strength of character to say what was right and needed to be said, she was promptly fired by then president Bill Clinton.
Great Moment in Masturbation History:   Making a Month of it in 1995
National Masturbation Month is Proclaimed in May
In 1995,  in response to the firing of Surgeon General Jocelyn Elder for her comments on masturbation, Good Vibrations sex shop got together with like minded sex-positive sex stores, and created Masturbation Month.  It is a month dedicated to honoring the most common and still frequently derided sexual practice on the planet. The month usually culminates in the Masturbate-a- Thon, a fundraising event where people ask for pledges (dollar amount per minute) and on a specific day try to masturbate as long as the possibly can. Tens of thousands of dollars have been raised for sexual health organizations across North America by the participating stores.  (Babeland, Good Vibrations and Come As You Are, mainly).
An annual online Masturbate-A- Thon has been organized by the Center for Sex and Culture for several years. While some consider Masturbation Month to be just another commercial exploitation,  it does result in more discussion of masturbation in the mainstream media, which hopefully will add to mainstream acceptance.
* This material was originally sourced from sexuality.about.com "Masturbation Moments from 1712-2003",  by Cory Silverberg, in the About.com Guide Updated July 31, 2008.   The page no longer exists on that site but may be archived at web.archive.org.  Link:  http://sexuality.about.com/od/masturbation/a/masturbationhis_2.htm
About.com Health's Disease and Condition content was reviewed by the Medical Review Board.